Right in the middle of the commercial neighbourhood of Lautrupparken in Ballerup is a network of paths and outdoor areas known as 'Walk & Talk Circles'. The outdoor facilities make it possible for the surrounding businesses to move their meeting and learning activities outside in open air. The architects behind the development project are Zoffmannholm Landskabsarkitekter, Arkitekt MAA Sofie von der Pahlen and Co-Creative in close collaboration with Ballerup Municipality, Nordea Liv & Pension, Tryg and Zenzo Group.
"In Ballerup, we focus on people and health. And with this exciting initiative, we strengthen the local business community by providing a framework that improves the health and well-being of the employees." Jesper Würtzen, Mayor Ballerup Municipality, Ballerup Municipality 2014 
Branding & Health
Located in Lautrupparken in Ballerup, the Walk & Talk Circle project aims to encourage more exercise among the employees of the surrounding businesses. In the long term, the ambition is to help prevent stress and lifestyle diseases. Those are the words of the Mayor of Ballerup Municipality, Jesper Würtzen, in a mid-term evaluation of the development project made by Arkitekt MAA Sofie von Der Pahlen, ZoffmannHolm Landskabsarkitekter and Co-Creative for Ballerup Municipality in 2014.
Accessibility & Recreation 
Besides the ambition to get more employees out of their chairs during working hours, the project has already created great social value. The employees in the area around Lautrupparken state in the mid-term evaluation made in the period from 2013 to 2014 that they have used the Walk & Talk routes frequently during the first year. The respondents in the mid-term evaluation generally provided very positive feedback and refer to the routes as an 'informal meeting format' which contributes to a calm atmosphere, encourages deep conversations and makes it easier to build social relations. Moreover, the employees find that the opportunity to have meetings in nature has contributed to a better and less stressful working environment.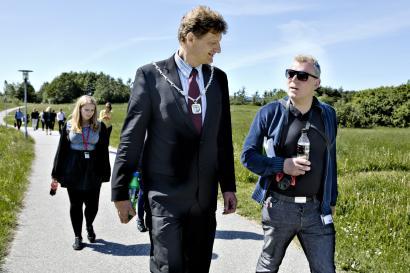 About the case
Initiated back in 2012, the Walk & Talk Circles development project aims to test the possibility of moving commercial activities out in open air. The development of the project is expected to continue until 2020, and studies will be made of the health-promoting qualities and activities offered by the project. The landscape has five different routes covering seven kilometres with distances from 0.5 to 2 kilometres. 'Pit-stops' with various functions have been established along the routes for short-term stops to support different meeting and dialogue situations for the benefit of the employees in the neighbourhood.
Read more about the case