After heavy flooding back in 2007 caused severe damage in the city centre of Taastrup, it was decided to transform Selsmosen into a combined retention basin for rainwater drainage and a recreational area for the benefit of the citizens. Designed by Force4 Architects, the blue-green park was ready in 2012.
When you need to climate-proof, you might as well turn it into a social good. In addition to protecting the area against heavy rainfall and cloudbursts, Selsmosen adds enjoyment value and offers more activities for the citizens of Taastrup. The facility creates better infrastructure to the railway station area and helps increase the sense of security in the area. 
Recreation & Security 
Through close collaboration with users and stakeholders, it has been possible to combine a recreational area with space for various activities with a technical facility that reduces the risk of flooding. In addition to the added enjoyment value and outdoor activities, the transformation of Selsmosen has, according to Vandplus Sekretariatet, created a better infrastructure to the railway station area, and the lighting in the park has increased the sense of security in the area after dark.
Rainwater Management
According to Høje Taastrup Municipality, the purpose of the sewerage part of the project was to ensure drainage of heavy rainfall and cloudbursts to reduce the infrastructural, economic and environmental costs in Taastrup. The expansion of Selsmosen was put to the test for the first time on 2 July 2011 when large areas of Copenhagen were flooded. The citizens of Taastrup had dry basements and gardens. 
"When I look at the area today, I think it is perfect. It has become a natural lake rather than a technical lake. It is a place that people use to play, take a walk or for picnics. We are very happy that our water reservoir is not a dull square pond behind an ugly fence but that is part of a whole which is used by the citizens."  Sebahat Turan, Head of Sewerage Systems, Høje Taastrup Municipality.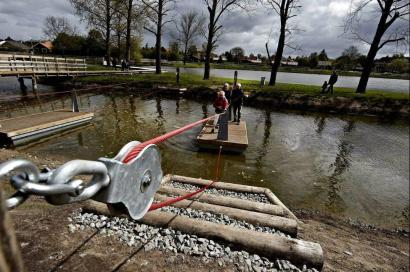 About the case
Selsmosen is a strong example of how a sewerage issue of draining heavy, sudden rainfall to reduce infrastructural, economic environmental damage can easily be utilised to add new and exciting activities to the local area. Today, the area has water playgrounds, climbing bridges, rafts, kayak polo facilities, beach volleyball courts, mazes and beautiful water basins for the citizens in Høje Taastrup Municipality to enjoy.
Read more about the case