The former Schou-Epa shopping centre from 1968 is situated centrally in Herning. It has now been transformed into Herning Library, which has tripled the number of visitors at the local libraries. The team behind the renovation, consisting of gpp architects, Kristian H. Nielsen Architects, Ramboll and Herning Municipality received the renovation award 'Renover-prisen' in 2015.
Herning Library's new facilities have generated more life in the city centre. The popular meeting point has 40-50,000 guests per month, a tripling of the number of visitors at the libraries in Herning.
Urban Life & Accessibility
According to the visitor counts made by Herning Library, 40-50,000 guests use its facilities after the library moved from its former location in the outskirts of Herning - a tripling in visitor numbers. According to RENOVER, the library has also generated new life in the city centre by linking the bus station, train station, pedestrian street and educational institutions in the area as an extension of the city's shopping street.
Ressource Utilisation, Environment & Identity
In connection with the transformation from an old shopping centre to a library, both time and money were saved by reusing the concrete structure of the existing building instead of tearing it down and building something new.
This is part of RENOVER's motivation for awarding the team behind the renovation of Herning Library the award for 'Denmark's Best Renovation 2015'. Typically, approx. 75 % of the energy used on building a house is embodied in the structures of the house. A lot of CO2 is emitted when you turn cement into concrete.
Accordingly, you avoid some significant climate impacts when you reuse building structures instead of building something new. In addition, the retained elements give the library a very unique look with contrasts between industrial and high-technology. 
Indoor Climate & Energy Optimisation
According to RENOVER, the renovation of Herning Library has involved a number of energy-optimising measures, e.g. high-level insulation of roof and windows, and introduction of radiation heated installations in the ceiling that ensure an even temperature in the large, open spaces of the library. The energy consumption of the building has also been reduced markedly by means of ventilation systems with heat recovery and LED lighting.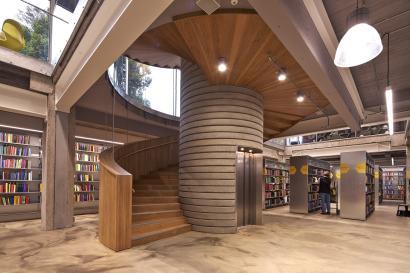 About the case
In connection with the transformation from an old shopping centre to a library, many of the details were retained from the old building out of concern for the environment, economy and aesthetics. Essentially, the original concrete – together with the recycled brick – stands as a prominent and raw contrast to the new, added steel and wood elements.
The raw and industrial style is reminiscent of a modernised factory workshop and appears at once spacious and detailed. The building now serves as a cultural hub for Herning, and with its central location and new functions, it has created a rich urban life by tying the pedestrian street together with the rail station.
Read more about Herning Library by gpp architects