Green Lighthouse is Denmark's first CO2 neutral public building. The house is DGNB certified and constructed according to the 'Active House' principle, which means that it generates energy, has a healthy indoor climate and manages drinking and wastewater in an environment-friendly manner and features materials that are expedient seen from a lifecycle perspective. The building is designed by Christensen & Co Architects.
"There is nothing to building sustainably. What makes Green Lighthouse so special is that the house is CO2 neutral while also being wonderful to look at and be in," Pia Allerslev, Mayor of Culture and Leisure, City of Copenhagen 
Energy Optimisation & Indoor Climate
Green Lighthouse's cylindrical basic structure results in a minimum surface and maximum volume that ensures optimum conditions for keeping energy consumption low. The building's primary energy source is sunlight, which is integrated in a string of solutions. The building benefits from plenty of daylight, reducing the need for energy for lighting, and the heat contribution from the sun is balanced by materials and installations in the interior structures of the building. 
On the south-facing roof, photovoltaic cells generate all the electricity needed to operate pumps, general lighting and heating pumps. Solar heating panels also ensure hot utility water and heating of the building together with thermal-active decks during winter. During summer, all surplus energy is transferred to a storage under the building, so that it can be used when the sun is less strong. According to VELUX, which is a partner in this project, all these measures help make Green Lighthouse self-sufficient in energy and an 'active', CO2-neutral house.
Branding
Green Lighthouse opened its doors in connection with the COP15 Climate Conference in 2009 and served as a display window for sustainable Danish architecture and technical skills during the conference. Already during its construction, Green Lighthouse attracted considerable attention from the construction industry, organisations and politicians as well as Danish and international media. The University of Copenhagen estimates that more than 15,000 people visited the building during the first three years. This is shown by a final report for Green Lighthouse prepared by the Danish Building and Property Agency and the University of Copenhagen in 2013.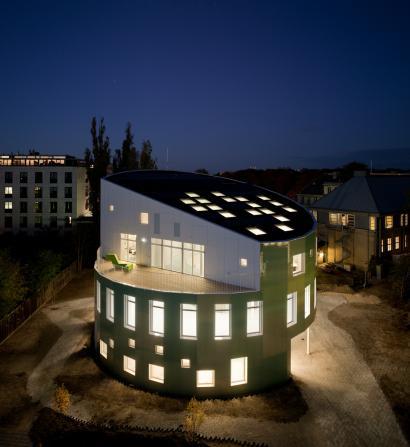 About the case
Green Lighthouse houses student services for the Faculty of Science at the University of Copenhagen. The cylindrical building has space for both student counselling and a 'faculty lounge', which serves as a meeting point for researchers and others with an affiliation to the faculty. 
The ceilings are high and the spaces are open and spacious. The building has garnered much attention since its opening with several thousand visitors, who have shown interest in the architectural, structural and technical solutions of the building, which all ensure an extremely low energy consumption and support the innovative learning environment of the building through its evocative settings. Today, the building serves as both a workplace and an exhibition window for sustainable public constructions of the future. 
Read more about the case