DTU Compute works with green, sustainable solutions from top to bottom. Open walkways and indoor vegetation help ensure wellbeing, social interaction and a healthy indoor climate.
At the Department of Applied Mathematics and Computer Science at the Technical University of Denmark (DTU Compute), learning and green solutions go hand in hand, and the architectural design integrates a multitude of climate, structural and energy-technology solutions.
DTU Compute utilises surplus heat from other parts of the university campus in an intelligent ventilation system capable of recovering up to 70 % of the surplus heat. The remaining electricity and ventilation demand are met through solar panels on the building.
At DTU Compute, they know that plants and trees contribute to better learning and wellbeing. Studies show that adding a little green can reduce absenteeism and fatigue, boost energy levels, and help strengthen concentration and productivity. On the ground floor, 30 trees provide clean air and help the building breathe. A hybrid ventilation system – developed by the university's own researchers – makes sure that the building uses 95 % less energy compared to traditional ventilation systems.
Furthermore, rainwater is collected in underground water containers and then used to water trees and flush toilets. The interior landscape is like a green oasis, with trees that fill the rooms and improve the indoor climate by cleaning the air, absorbing heat in summer and adding humidity in winter.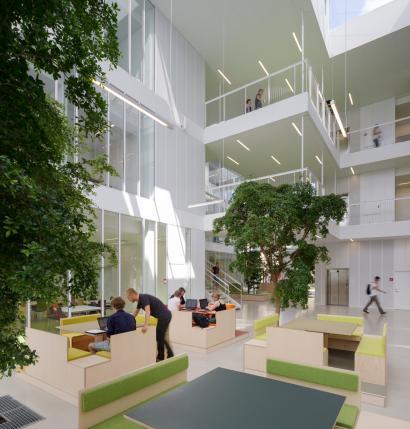 About the case
DTU Compute is intended as a 'micro-campus' with facilities for teaching, social meetings, research, exhibition and administration. The building breaks with DTU's classic norm houses in yellow bricks and black wood from the 1960s with many transparent surfaces between premises, corridors and common areas.
The building provides new opportunities for interdisciplinary work, teaching and social interaction with open walkways that create a vibrant course of movement across all floors with a look to common areas and ground floor planting. The interior landscape looks like a lush oasis with mature trees, which fill the rooms and improve the indoor climate by cleaning the air, absorbing heat in the summer and adding moisture in the winter.
Read more about DTU Compute by Christensen & Co. Architects