The fan-shaped hotel and conference centre in Rønne on the Danish island of Bornholm is designed according to the 'Cradle-to-Cradle' principles, a design philosophy where circular economy, recycling, active materials and renewable energy sources are in focus. 3XN Architects and GXN Innovation have masterminded the design in collaboration with William McDonough +Partners, VELUX, Ramboll, COWI and Saint-Gobain.
"Green Solution House is a perfect example of the dynamic society of Bornholm. 20 years ago, we were practically a fishing community, but now commerce, production, tourism and great ambitions in green thinking are just as important — as illustrated by this building." Winni Grosbøl, Mayor of the Municipality of Bornholm, Magasinet Byggeri
Recycling & Resources
Green Solution House is designed based on the circular concept of the 'Cradle-to-Cradle' philosophy. All the materials used in the building can therefore either be recycled or are biodegradable, and are to the extent possible produced locally. The building components are designed so that they can be replaced by newly developed materials as needed. This ensures that the building remains a pioneering construction that continuously develops. The building is also operated according to a circular business model. In practice, this means that any profit made is continuously reinvested in new green solutions and technologies.
Energy Efficienty, Daylight & Indoor Climate
Guest checking into Green Solution House encounter floor-to-ceiling green solutions. The carpets of the house absorb dust particles, the wall plasterboards reduce the concentration of formaldehyde and the roof membrane neutralises polluting particles from traffic. A wall covered in plants generates new oxygen, stabilises the air humidity and provides cooling during the summer months. Most of the building's energy need is covered by photovoltaic cells integrated in e.g. the roof and balcony railing. A pyrolysis plant is also being developed, which is intended to convert organic food waste into heating, electricity and soil additive. 
A main element of Green Solution House is the daylight conditions, which ensure a comfortable and healthy indoor climate that far exceeds the minimum requirements of the Danish Building Regulations. In an interview with MediaPlanet Business & Finans in 2016, Trine Richter, managing director of Green Solution House described the users' experience of the indoor climate as follows: "Guests report that due to the high level of comfort in our house they feel more fresh and do not get drowsy and tired or lose attention when they are in a meeting."
In two special hotel rooms – smart rooms – the guests can control the indoor climate and get live feedback on their consumption of energy, light, air and water. That helps promote awareness of comfort and resource consumption and stimulates a greener lifestyle. 
Branding & Knowledge Sharing
Green Solution House has garnered massive attention and recognition at both national and international award shows, architecture festivals and conferences. The considerable media attention has given the hotel a publicity value that it would not have been able to get with normal marketing strategies and budgets.
Green Solution House is the result of a wide array of innovation partnerships that create positive attention about the company and strengthen the narrative about Denmark as a pioneering country for green transition. The project has resulted in the development of 'Velux Modular Skylight', a skylight with integrated photovoltaic cells, a three-year research trial at Aalborg University regarding the partnership between Green Solution House and VELUX as well as a six-month daylight trial conducted by Oxford University, which is undertaking research in Denmark for the first time.
Green Solution House's constant development process bridges Danish architecture, tourism and industry. Besides the overwhelming feedback from the users, the many research initiatives and positive reviews, the value creation is also revealed in the company's revenue. Its revenue increased by 20 % in 2016 compared with 2015!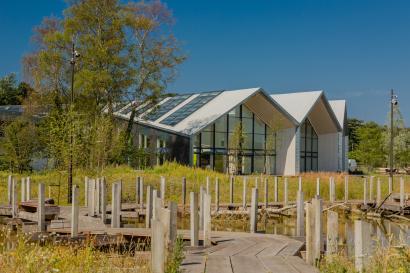 About the case
Green Solution House in Rønne on Bornholm is an extension and renovation of the former Hotel Ryttergården, designed with environment-friendly solutions based on local material production, renewable energy sources and lifecycle design. The newly built conference centre with high ceilings and an abundance of daylight ties the original buildings together. The surrounding landscape features flower, herbal and vegetable gardens, and in and around the landscape you will find lakes and low-lying areas that hold rainwater for the benefit of the surrounding single-family homes whenever there is a cloudburst.
Green Solution House is a project in constant development where green solutions in biodiversity, recyclable materials, energy optimisation, water treatment and waste management are continuously implemented. No matter where the guests of the hotel and conference centre look, they will encounter well-conceived solutions in green technology, organic food and sustainability.
Read more about the case by 3XN Architects